My Foray Into Dubbing
I never thought I would enjoy doing Dubbing. I had been asked to do this type of voiceover in years past and have always said no. Mostly because I feel the rate is too low even with the current union contract. I also hated watching dubbing shows and movies as a child. It always felt so fake. Like the voices never really matched what I was seeing. I'm so grateful that this part has mostly changed. It seems that Dubbing has undergone a makeover in recent years thanks to streaming services like Netflix.
Furthermore, when I was in Mexico and Colombia last year, I had several colleagues challenge me to do some dubbing work to get better as a voice actor. I realized that is why so many of my counterparts in Latin America are so talented, they all do Dubbing. Add to this that Netflix has a particular way of doing dubbing known as VO Style Dubbing aka UN-style Dubbing. Being the avid learner that I am, I sought out what they ask of production houses and learned the "why" behind this style of Dubbing.
This allowed me to not only do my work to the best of my ability, I was able to understand direction better and complete the recording in less time. Yeah I know, that doesn't help my bottom line because I get paid by the hour but I don't care. I care more about being the best voiceover actor and being efficient with my time.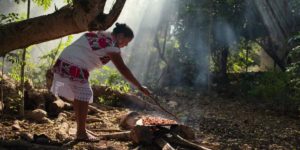 Hispanic Accented English Isn't Always Needed
In the recent show I dubbed, I was selected to voice Rosalia Chay Chuc for the Documentary Series Chef's Table: BBQ on Netflix because I'm a native Bilingual Mexican voice actor who can speak English and pronounce all the Spanish words authentically. Therefore, I was also able to contribute my thoughts on particular takes and help with the creative side, which my Director greatly appreciated.
I do not have a strong hispanic accent when I speak English because before it was popular to have an accent, I worked to neutralize it. I'm thankful that more production efforts can appreciate that being an authentic Latina doesn't mean that the English has to be spoken with a Hispanic accent.
If you want to learn more about this style of dubbing, here are the guidelines that Netflix outlines: